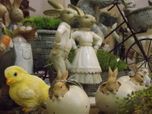 See the pictures gallery from the first day of the first day of spring session of FOR DEDOR & HOME 2019 trade fair.
We would like to express many thanks to all exhibitors, visitors and partners for great cooperation at the FOR DECOR & HOME spring event.
The contracting trade fair saw an increase of important indicators compared to last spring.