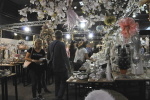 Most of the czech prominent and regular exhibitors of the autumn trade fair FOR DECOR & HOME have already booked their exhibition space and are planning a specific form of their exhibitions.
For traders comming to this specialized event from all over the Czech Republic, there will be innovations, comprehensive corporate collections and facilities for the conclusion of the PRE-CHRISTMAS CONTRACT.
Many permanent exhibitors are increasing their exhibition space, many companies will present themselves in Letňany for the first time and many of them are preparing trade fair bonuses for their customers.
Once again, the renowned names of manufacturers, wholesalers, exclusive importers or family manufactures will appear. All stakeholders can look forward to a high-quality event unparalleled in the field of decorations and gifts.
For an event that has already built up its solid position and whose business benefits are considerable. The fair has also gained popularity thanks to its inspiring accompanying program. All lovers of decorations can look forward to a professional floristic show CHRISTMAS TRENDS, which brings world Christmas trends to Prague as well.
The fair will take place in the exhibition hall No. 3 and in the central hall No. 2, an interesting novelty is cooperation with the event Watches and JEWELS, which will be this year firstly held simultaneously with the FOR DECOR & HOME trade fair. At the same time, the International Collector Fair will also take place.
Those interested in the exhibition area at the FOR DECOR & HOME trade fair can still register, we have still nice exhibition_places available.
We also offer turnkey exhibition stands, extended promotion and other participation services. If you are interested, please do not hesitate to contact us at rakusan@abf.cz.